Welcome to Budding Lotus Body
Bodywork and Reiki in Santa Fe, NM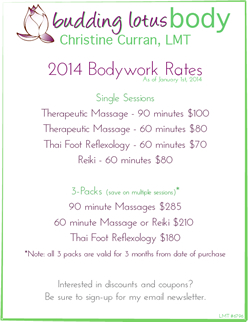 Whether you are looking for a series of sessions to address specific physical or energetic difficulties, or are looking for an opportunity to relax and nurture yourself, I am excited to work with you.  I offer Therapeutic Massage, Thai Foot Reflexology and Reiki/Energywork in Santa Fe, NM.  Visit my Bodywork page to find out more about my services or visit my contact page if you would like to set up a session.
Gluten-free and Vegetarian Cooking
I have been sharing my nourishing recipes on my food blog since 2008 and plan to continue to share my gluten-free, vegetarian dishes with you.  I also plan to incorporate more information about nutrition, well-being and the body as my practice continues to grow.
I look forward to connecting with you.
Christine